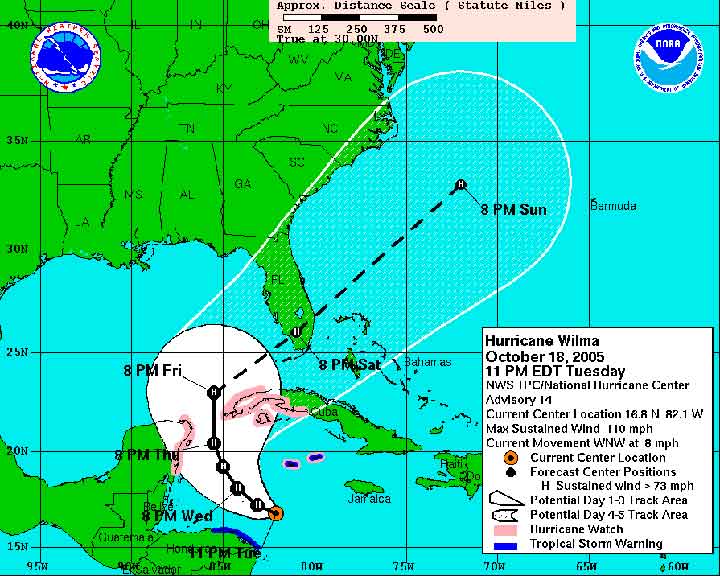 We made it through WILMA ok in Marathon, but many others had serious damage, including our daughter Ana, whose home in Delray Beach, FL had significant roof damage.
We just got back (10/26/2005) to Marathon after hurricane WILMA to find our home and our boat SIESTA without a scratch. We have power, water, and a cold front has cleared the skies and finally brought beautiful sunny cool weather to the Keys. However, destruction is clearly around us here in Marathon. As it turns out, it did not blow that hard here in our island (highest sustained winds were recorded at 88 mph at nearby Sombrero light,. no wimpy winds, mind you, but it could have been a lot worse).
Preparations and evacuation:
As we did before when a storm approaches the Keys, we did not see any reason to stay in the Keys for WILMA when we have our daughter, and our 5-month old granddaughter, just three hours away in Delray Beach, just south of Palm Beach. Besides, WILMA was coming in to the Keys from the west, after totally demolishing a good part of Cancun and Cozumel (Note that charming, delightful Isla Mujeres nearby Cancun, where we stayed on our trip home, became three islands instead of one!). Besides, the storm was predicted to lose strength as it interacted with a cold front and a much colder dipping jet-stream, and would exit the east coast of Florida very quickly as a tamer category 1 hurricane.
So, after securing boat and home, we hopped on our Marill Mobile RV, our hurricane getaway vehicle, which has gotten plenty of use in the last two years for this purpose, and drove away early in the evacuation cycle, in full comfort and without much traffic. It turns out only an estimated 7% of the Keys population followed the evacuation order for WILMA.
Click on any of these pictures to make them larger.
Hurricane WILMA in Delray Beach, south of Palm Beach:
We helped our son-in-law board up in Delray Beach. We got all the necessary emergency supplies, and prepared for what we thought would be a mild hurricane experience. Just in case, we accepted the generous offer of our long-time good friends, Bob and Brigitte Wiebelt, who own commercial property in Delray and who came to the rescue and offered to harbor our RV inside their warehouse building.
After we were through boarding up, we needed lights inside the house even in the middle of the day! We then patiently waited for the storm, with plenty of time to spare. We had satellite television, air conditioning, nice recliners to relax in, our own bedroom, and our granddaughter Lily to play with and spoil.
By 4am we began to feel the stronger winds of the storm, and by 8 pm we were in the eye of the storm. The diameter of the eye of this storm was roughly 70 miles! Before the eye crossed right over us, we felt an extremely loud and ominous thud on the roof of our living room, followed by a very slow water leak, right from atop the cathedral ceiling.
We came out during the eye of the storm to survey the damage. By then it was plain daylight. There were trees down and stuff knocked out everywhere, but no evidence of what hit the roof, other that a visible dent in the asphalt tile roof. I took a lot of pictures, and then we saw the inner wall of the backside of the storm approaching, an ominous sight, and decided to get the hell inside again.
Part two of this experience was supposed to be milder than part one, BUT IT WAS NOT! The five of us were in the great room, the main room of the small house, when we heard all kind of nasty noises above us and know that we were getting beat up bad and the roof was not taking it kindly. The wood that was fastened to the beams and which held the waterproof roof paper and asphalt tile began to shake and vibrate. We thought this would be all over, and took refuge in the hallway. By then we had lost power, and we had flashlights and candles. No television, just a battery am radio broadcasting the best TV station, CBS Channel 4, with Brian Norcross.
One small leak became many large leaks everywhere in this part of the house, and everything got wet in that room, including all the home electronics. Being a gadget freak, I have a TREO 650 SmartPhone, an amazing combination of cell phone, PalmPilot organizer, MP3 player, digital and video camera and web browser. I could go to the local radar displayed on a website we use all the time around here, and could see the progress of the storm and its eye moving across Palm Beach Country and out to sea on the east coast of Florida.
As it turns out, the hurricane speed up and was estimated to be traveling at 30mph as it exited our area! The resultant apparent (but very much REAL) sustained wind speed measured nearby was 120mph!
See above: Before the eye went through (left) and after it took all the tiles off the roof.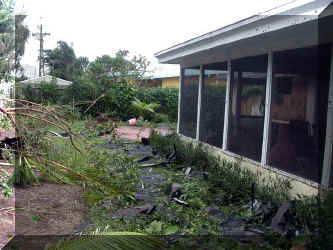 After the storm passed, without further deterioration of our roof, we went out and saw that the front side of the entire roof was naked, without a single tile on it. Just the wood and the paper remained, and we were thankful for that. What an adventure!
We picked up our RV which did not get a drop of water on it, and saw the destruction around us as we brought our RV back to Ani's house. Not a single traffic light worked. The entire area was without power, and trees and telephone poles were knocked down everywhere. It is very dangerous to move around under these conditions. Luckily we did not have far to go.
We parked our RV in their driveway, and ran our generator. They have an emergency generator as well, which we started right away. And proceeded to cut down the limbs of trees in the yard, collect the piles of roof tiles all around the house, and got some tarps and nailed them to the roof to prevent further leaks. Most of the houses in our block had significant roof damage, and one lost its roof altogether. All of a sudden, they found themselves with a nice huge sunroof over their heads, in the middle of the storm! We were lucky.
The next day we headed back home to the Keys.
Return to Marathon:
By far a more serious problem here in the Keys was the result of a predicted storm surge, which came in from the north, the Florida Bay side. When the storm pushed the water in this very shallow bay from the north in a southeast direction, the huge amount of sea water gets trapped in the v-shaped area between the string of Keys and the Florida mainland and needs to find a way out. The openings between the bridges do not allow a fast enough flow of water to escape to the ocean side, so it is easy for it to go over the low-lying keys.
So, the bay side of the Keys suffered a fairly sudden rise in water level of 3-5 feet, maybe more in some areas (NOAA predicted 5-8) with the consequent intrusion into ground level homes, yards, streets, boatyards and over US1 to find a way to the ocean. For some reason which I do not fully understand, in our case we did not even have water come up past our seawall. We think our inlet is capable of very quickly exhausting any water that comes into our estuary where we have SIESTA securely docked behind our house and prevent a sudden rise in water level in all but the most extreme cases. I say this because we have felt the effects of FOUR hurricanes this year: DENNIS, KATRINA, RITA and WILMA, with WILMA being by far the worst here. In two cases, I went out and measured the water depth at our well-marked inlet, fearing that with the storm, the channel had shoaled and partially filled in with sand, but found that the marked entrance channel had become significantly deeper so we can now go through it at very low tide! We believe this could be because of the water rushing out through the deepest past of the sanded entrance.
Above, SIESTA sitting nicely at her berth after WILMA.
This page has been viewed

times since 10/28/2005.